Ultra-solid inflatable SUP with excellent speed, stability and control ratio. Suitable for all water surfaces. Comes with accessories.
If you are a water person and cannot wait to paddle at sea or the closest reservoir, the Paddleboard with Accessories Aztron Urono 11'6" is just for you. This board will provide hours of family fun. It allows you to exercise your muscles while relaxing. Is there a better way to (actively) relax?
Fast and stable universal board with high weight limit
The Aztron Urono is a versatile paddleboard with a weight limit of up to 150kg. It is suitable for calm water use, i.e. lakes, ponds, reservoirs, sea or slower rivers. Its narrow "touring" shape (lifted pin nose) makes this board the ideal blend of sprint speed and glide efficiency. As a result, one paddle stroke will take you farther with less energy spent. Therefore, it is also suitable for long-distance rides. The excellent stability and maneuverability make the Urono perfect for beginners as well as experienced users.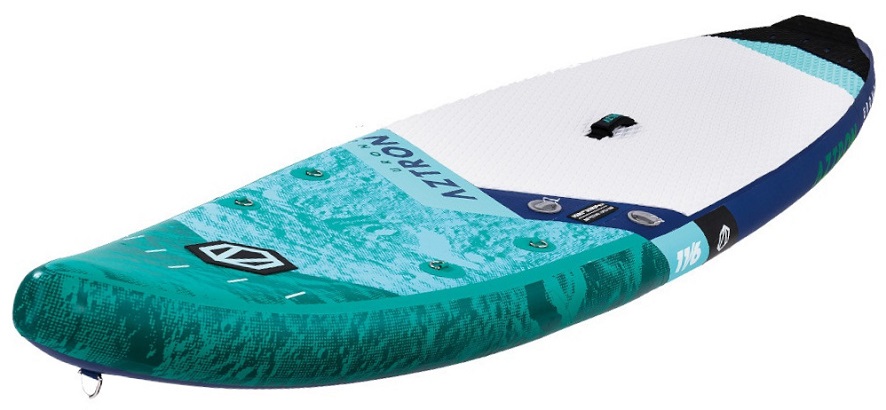 Two chambers – ultra solid and safe
The Aztron Urono SUP features two separate chambers, making the structure more solid (inner walls provide additional reinforcement). Moreover, thanks to the two chambers, this paddleboard has riding characteristics similar to those of inflatable, polycarbonate paddleboards. This board does not bend. The two chambers also make the board safer. In case of an accident and air leak in one of the chambers, the other one will allow you to get safely ashore.

Little tweaks that will come in handy both in and out of water
The Aztron Urono paddleboard is not just the board. It has plenty of little tweaks that allow for more comfortable paddling and carrying. The elastic bungee cords allow you to carry light cargo that you do not want to leave on the shore while the anti-slip EVA pad with a deep "diamond" pattern on a large part of the deck allows for a perfect grip and prevents slipping. However, even if you do slip, it is okay. There is a stainless-steel D-ring to which you can attach a leash, which you put on your leg, making sure you do not lose your paddleboard. The high anti-slip pad in the stern allows you to effectively change direction.You may also appreciate the solid handle for easy carrying.

Accessories included
The paddleboard comes with everything you might need during your water adventures – a three-piece, length-adjustable aluminum paddle, a high-pressure pump with a pressure gauge and a safety leash. You can put everything (including a folded paddleboard) in a solid backpack with comfortable shoulder straps. All you have to do is put the backpack on your back and get going.

Technical description:
Fast paddleboard
Suitable for long-distance rides
Two-chamber structure for better strength and safety
"Drop stitch" technology (inner polyester fibers)
High weight limit
Excellent stability
Maintains direction
Excellent maneuverability
Large anti-slip pad
Elastic bungee cords for carrying light cargo
Stainless steel D-ring for attaching leash
Removable fin (easy-to-install), all you have to do is insert it
Handle for easy carrying
Max pressure: 1.03 bar (15 psi)
Material: dual layer PVC, anti-slip EVA pad
Deck dimensions: 350 x 81 cm
Deck thickness: 15 cm
Volume: 306 L
Weight limit: 150 kg
Comes with aluminum paddle, safety leash, high-pressure pump with pressure gauge, carry backpack, fin and repair kit
Delivery